The PocketFMS Crew.
Somewhere in March 2003, Rob Weijers and Marcel Knol were introduced to each other by a mutual pilot acquaintance. At that time, Rob had just started developing a little program that used a GPS receiver and a Pocket PC (!) to serve as an aid in his CPL training. Marcel offered to assist him by developing documentation and a web site, and by doing software beta testing - remember, Pocket PC's were few and expensive in those early days. It was the start of a cooperation that still lasts, and has resulted in the versatile flight planning and moving map software you may be using.
In Februari 2013, a successor to the original PocketFMS software was released. Called EasyVFR, and usable on a wider and more modern range of platforms, such as iOS, Android, Windows and OS X. The original PocketFMS software remains available for a long time still due to its large audience of frequent users, though development and support have been frozen.
Rob and Marcel both live in the center part of the Netherlands, and are home-based at Lelystad Airport (EHLE) which also is home for the PocketFMS Headquarters. Both are licensed aviators as well as ICT professionals, and frequently take national and international flying trips together. Building the original PocketFMS software was done in the evenings and weekends, and initially it was offered as Donationware. In July 2005, their cooperation was formalized in the PocketFMS Foundation. Per January 2006 Ron Grenfell has teamed up, becoming the Regional Partner for Australia and New Zealand. In March 2007 the next step was taken: developing PocketFMS had become the daytime job for Rob and Marcel, abandoning the Donationware model for a subscription based one. On popular request, the non-subscription Fusion version was added lateron.
In 2013, EasyVFR was released and became an instant succes. In 2016, several thousands of users were already flying their planes all over the world, guided by this often mimicked software. Many of the features you take for common in this line of software were originally developed by the PocketFMS Crew! In 2018, work was started on EasyVFR 4 which was to have similar functionality but with a new user interface and vastly improved mapping engine. In April 2020, EasyVFR 4 was officially introduced at the Friedrichshafen Aero.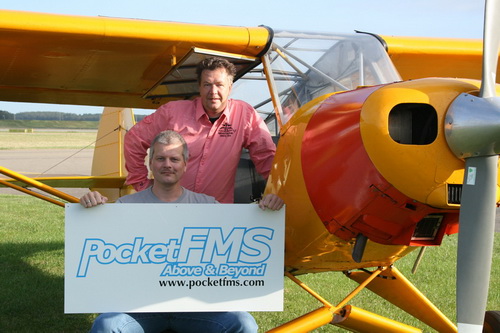 Rob Weijers

is PocketFMS' mastermind. He made the software into the powerful tool it is today via an ever continuing process of improvement He is an innovative thinker and a genuine C++ & SQL Server Guru, always coming up with further ideas to enhance usability and versatility.

Rob holds an EASA CPL-IR. He flies Diamond Katana & Star (in any configuration), Fuji FA-200, Cessna 172 and 177RG (Cardinal). He acted as First Officer on a PA-31 Navajo as well.
Marcel 'Nosegear' Knol

is a software developer with roots in the Royal Dutch Air Force. He maintains documentation such as the manual and this website, but also builds various php/ASP/SQL Server solutions that the software uses to connect to the servers. His main activity is to coordinate the AeroData maintenance.

Marcel holds both US and EASA licences. He flies Cessna 152, 172, 177RG (Cardinal), Piper Warrior, American Tiger, Diamond Star (any configuration), Piper Cub and Socata TB10. For the ever so necessary aerobatics he mostly uses the Fuji FA200, General Avia F22B and CAP-10.
Dr.

Ron Grenfell

has joined the Crew as the Regional Partner for Australia and New Zealand. Ron has an academic background in business development, mapping and Geographic Information Systems. He provides the Foundation with valuable strategic information for program development and marketing.

Ron holds an Australian PPL. He is a member of the Royal Victorian Aero Club and flies Piper Warrior, Archer & Arrow, Cessna 172, and Socata TB10.