Looking for a little bigger? Here's Ready2Fly!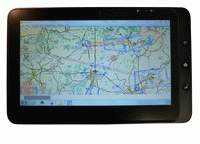 How's about a 10" Windows 7 Tablet with PocketFMS pre-installed? Meet the Ready2Fly, which besides functioning as your Moving Map and Flight Planner can also easily hold your plane's Pilot Operating Handbook, checklists, 3rd party approach plates and any other useful tools you may have.

The comfortable touch screen, the 1.66 GHz Atom processor, a 32 GB solid state harddisk, WiFi and optional UMTS make it usable on any location. A host of options is available, and the Tablet really comes Ready to Fly!

Interested? Have a look at the Ready2Fly web page!